Sweet potatoes are one of the healthiest things we can eat. The mighty sweet potato is by far the healthiest potato in existence. They are loaded with protein, fiber, calcium and potassium – among other things. During the holidays we always had candied yams that my Grandmother made. The dish was syrupy, buttery and decadent. When you pulled the leftovers out of the fridge you could see the butter congealed. Over twenty years ago, I spent Christmas with my now husband's family and we had sweet potato casserole. It was so delicious that I didn't mind not having my traditional sweet potato dish of candied yams at all. To this day I've not made the casserole myself, but get to enjoy it when my sister-in-law makes it during the holidays.
Because my husband would eat sweet potatoes every day if I made them, I've been trying to figure out ways to enjoy them that won't aid in clogging our arteries. Every time we dine out and my husband finds sweet potato fries on the menu he has to have them. Since they are usually cooked in a gluten fryer, I'm never able to order them even though I'd like to be able to. Lately, we've been eating baked sweet potatoes at home, but I don't like them without butter – just like I don't like other types of potatoes without butter.
Finally, I made homemade sweet potato (baked) fries and I can't believe what I've been missing. As always, I went to Recipe Zaar to search for a recipe. Many versions of sweet potato fries came up in the search, but I settled on this one. As usual, I modified it to suit my tastes. Though the instructions don't call for peeling the potatoes, I removed the skin quickly with a vegetable peeler. Since I'm not a huge fan of the flavor of chili powder except in chili, I used smoked sweet paprika instead. Obviously, those two flavors are nothing alike, but the fries were absolutely fantastic so we'll be using the paprika again and again. My paprika came from Fairway Market in NYC, but I noticed a version of the spice at Whole Foods recently. It was in the international aisle there. Paprika is easy to find but smoked sweet paprika is not available at many of the stores in our area.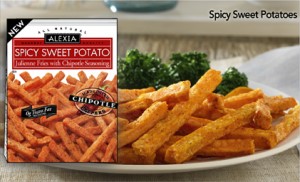 Before deciding to make these yourself, keep in mind that since they are not fried, they are not crispy like fried French fries are. If you can get past that, then you might be surprised by how great these baked fries are. Kim over at Celiac-Disease.com has more great ideas on how to use this oh-so-tasty potato.
The new frozen Alexia Spicy Sweet Potato fries with chipotle seasoning are gluten-free. When I called to confirm this item was gluten-free, the customer service person at Alexia Foods said that all their potato products were presently gluten-free. She also made a comment that was rather odd. She mentioned that we might start to see less products marked gluten-free going forward because making that claim can be problematic. Companies are going to start being more cautious about stating products are gluten-free.
While I certainly appreciate companies being careful about correctly labeling their products, they should have been doing this all along. Just like there are trendy gluten-free dieters out there, there seem to be some manufacturers that got ahead of themselves as well. All of the Alexia potato products I've had were indeed gluten-free, but their new sweet potato fries are not labeled gluten-free (which is why I recently passed on them at the store). Even so, the ingredients do not list any gluten ingredients and the customer service person said it is company policy to list ALL forms of gluten and not hide them in spices, flavors or anything else. Also in the FAQ section on the Alexia Foods website, it states that all their potato products are gluten-free. Then why not just put gluten-free on the package of the new Spicy Sweet Potatoes? This is almost as confusing as the Whole Foods 365 gluten-free mix cancellation fiasco. I know your head is probably swimming with the labeling mess, but at least there's the Grocery Guide to give you a head start on sorting out gluten-containing from gluten-free potatoes.